Makes: 2 cakes
Prep Time: 10 mins
Cook Time: 5 mins
Ingredients
Ganache
1/4 cup heavy cream
1 tablespoon Rio Luna Organic Diced Green Chiles (or any other Rio Luna Organic pepper)
2.5 oz chocolate
Chocolate Cake
1/4 cup brown sugar
1/8 teaspoon salt
1 large egg
1 large egg yolk
1/2 teaspoon vanilla
1 tablespoon Rio Luna Organic Diced Green Chiles puree (optional)
2 tablespoons all-purpose flour
Made With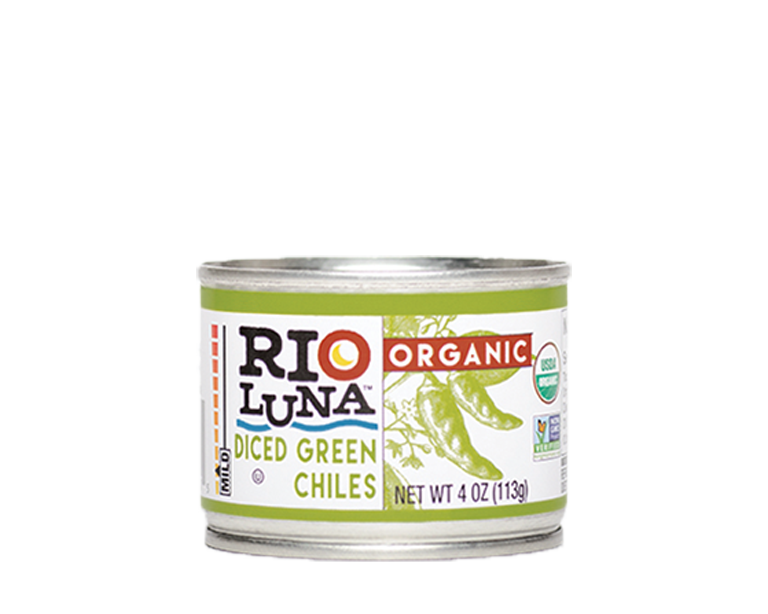 Directions
Rinse the Rio Luna Organic Diced Green Chiles.
In a small saucepan, heat the cream and the diced green chiles together until the mixture starts to bubble at the edges. Simmer for about 3 - 4 minutes. Strain the mixture in a fine mesh strainer, pressing against the diced green chiles.
Add the chocolate into the heavy cream and chill in the refrigerator until hardened.
Grease two 6 - 8 oz ramekins and dust with cocoa powder. Set aside.
In a medium bowl, mix together the sugar, salt, eggs, vanilla, and the diced green chiles. Whisk well for about 2 minutes. Stir in the flour.
Evenly divide the batter among the ramekins, then roll a heaping tablespoon of ganache into a ball and place in the batter until it is fully covered.
Microwave one ramekin for 1 minute and 15 seconds, or two for 2 minutes. Allow to sit for a minute, then carefully turn out onto a plate (be careful as the ramekin will still be hot).
Recipe Note
This recipe was developed and featured on A Cookie Named Desire. The original blog post can be read here.
To purée the peppers, mash with a fork.