Makes: 10 servings
Prep Time: 15 mins
Cook Time: 30 mins
Ingredients
3 cups cooked turkey, shredded
2 cups green tomatillo sauce
1 cup Rio Luna organic diced chiles
1/4 cup of chopped fresh cilantro
3 cups masa harina flour (corn tortilla flour)
1 1/2 cups of chicken
1 cup of shortening, melted
2 cups of shredded cheese, Mexican blend preferred
Chopped red onion
Chopped chives
Queso fresco (crumbling Mexican cheese)
Mexican crema
Made With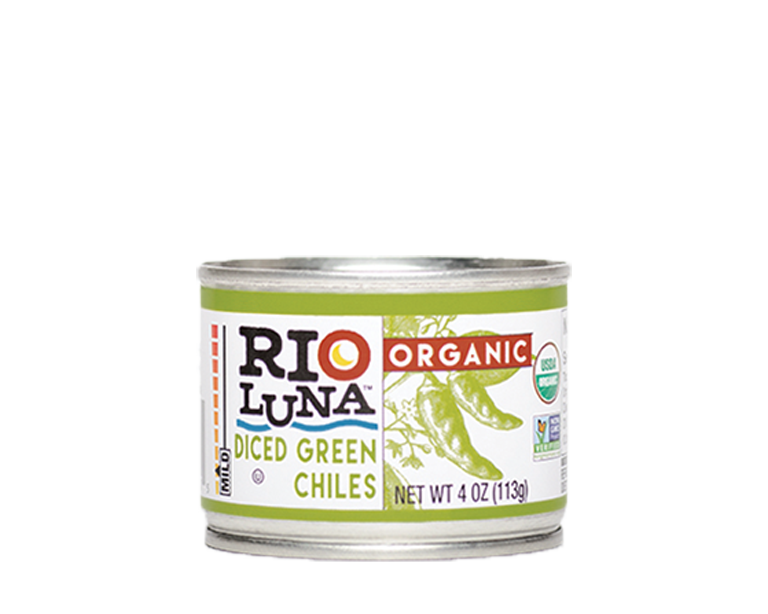 Directions
Preheat oven to 375 F.
Mix masa harina flour, chicken broth and melted shortening with your hands until you have masa with a sticky consistency.
Coat a medium casserole dish with cooking spray.
Put the masa on the bottom of the casserole and spread evenly with a spatula.
Combine shredded turkey, green tomatillo sauce, 1/2 cup of the Rio Luna organic diced chiles and cilantro. You want the turkey to be well coated but do not want the mixture to have too much sauce or be too watery.
Using a slotted spoon add turkey mixture over the layer of masa and spread evenly.
Sprinkle with the cheese.
Place casserole on the lowest rack of the oven and cook for 30 minutes or until cheese starts to bubble.
Serve topped with diced onion, chives, queso fresco, crema, and more Rio Luna organic diced chiles.
Recipe Note
This recipe was developed and featured on Growing Up Bilingual. The original blog post can be read here.