Makes: 8-10 servings  
Prep Time: 30 mins
Cook Time: 20 mins
Ingredients
For the skewers:
1 large red onion
2 yellow bell peppers
2 small zucchini
2 small yellow squash
2 Chinese eggplant
8 ounces cremini mushrooms
2 cloves garlic, minced
3 tablespoons olive oil
2 teaspoon kosher salt
1/2 teaspoon ground black pepper
Green Chile Vinaigrette:
1 (4-ounce) can Rio Luna Organic Diced Green Chiles, drained
2 tbs lime juice
2 tbs chopped cilantro
1 clove garlic, minced
1 teaspoon smoked paprika
1 teaspoon kosher salt
2 tablespoons olive oil
Made With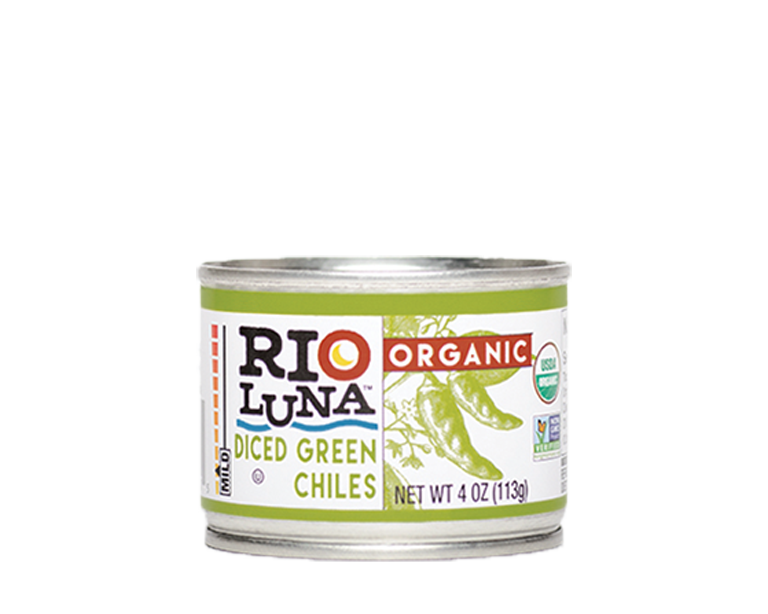 Directions
If you are using wooden skewers, submerge them in water for at least 30 minutes before using.
Peel and half the onion, then cut into quarters. Cut each quarter into 1-inch thick slices.
Seed and core the peppers and cut into slices the same size as the onion.
Remove the ends of the zucchini, squash, and eggplant, and slice into 1/2-inch thick slices.
Wipe mushrooms clean with a paper towel and cut in half if large.
Toss all vegetables in a large bowl. Toss with garlic, olive oil, salt, and pepper. Then skewer onto the soaked wooden or metal skewers. Depending on the size of your skewers you should have 10-12 skewers total.
Heat gas or charcoal grill to medium heat.
Meanwhile, prepare the vinaigrette. Combine all ingredients except the olive oil in a medium bowl. Stir to combine. Slowly stir in olive oil until well combined.
Grill skewers over medium heat, turning occasionally, until tender and lightly charred, about 15-20 minutes.
Transfer to a serving platter and spoon vinaigrette over the skewers. Serve with extra vinaigrette on the side.
Recipe Note
This recipe was developed and featured on Hola Jalapeños. The original blog post can be read here.