Makes: 4 servings
Prep Time: 10 min
Cook Time: 2.5 hrs
Ingredients
1 jar Rio Luna™ Organic Red Enchilada Sauce
1 slab of pork spare ribs
1 cup brown sugar
2 tbsp Kosher salt
2 tbsp ground black pepper
1/4 cup yellow mustard
1/4 cup apple cider vinegar
1/2 cup water
Made With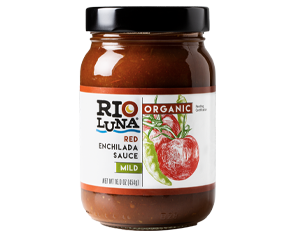 Directions
Preheat oven to 375°F.
Apply salt and pepper to the slab of pork spare ribs, and place on a sheet tray preferably with a rack, so the ribs are elevated. Put the water on the sheet tray. The water will create steam for the ribs.
Loosely cover the ribs with aluminum foil making sure the foil does not touch the ribs and, place them in the over for 1.5 hours.
In a pot, combine the enchilada sauce, apple cider vinegar, yellow mustard, and brown sugar. Bring the mixture to a simmer at a medium heat for 15 minutes, and lower to a low heat for 40 min. Use a heat proof spatula to stir and make sure it is not sticking to the bottom of the pot.
When you have reached the 1.5 hour time for the ribs, uncover them and using a brush, brush the sauce onto the ribs. Brush every 15 minutes for the next 45 minutes. Your ribs should be nicely glazed. When you notice the rib bones being exposed to about 1 inch, your ribs are ready to consume. Serve some extra sauce for dipping.