Makes: 12 enchiladas
Prep Time: 15 min
Cook Time: 20 min
Ingredients
12 corn tortillas
2 jars Rio Luna™ Organic Red Enchilada Sauce
1 whole rotisserie chicken
2 cups Chihuahua cheese
4 oz canola oil
Sour cream, to taste
Queso fresco crumbles, to taste
Minced cilantro for garnish
Made With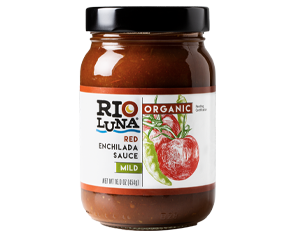 Directions
Preheat oven to 375°F.
Shred rotisserie chicken and discard any skin or cartilage. In a bowl, combine the chicken, 4 oz of enchilada sauce, and ½ cup of chihuahua cheese.
In a skillet, turn the heat to a medium heat and add the oil in the skillet to sear the tortilla just enough that it is pliable. This should take 20 seconds per side.
Take the shredded chicken mix and place on the edge of the tortilla and roll tightly.
Take an oven proof dish and add 4 oz of enchilada sauce on the bottom of the dish and begin placing the stuffed and rolled tortillas side by side in the dish. Next, add the remaining enchilada sauce over the rolled tortillas making sure they are all covered with sauce. Add the remaining chihuahua cheese.
Place the enchiladas in the oven for 15-20 minutes depending on your oven. Once the cheese is melted, turn on the broiler setting and allow the cheese to gratinate for 3-4 minutes. Garnish your enchiladas with sour cream, cilantro, and queso fresco crumbles.