Ingredients
1 pound egglant, sliced into 1/4 inch pieces
1 pound zucchini, sliced into 1/4 inch pieces
3 tbs olive oil
2 tbs Zataar Seasoning (sub with Italian Seasoning)
8 ounces Beyond Meat Crumbles
2 tsp garam masala seasoning (sub with curry powder)
1/2 cup red onions, pickled
1/2 greek yogurt
1/2 Rio luna Organic Hot Diced Green Chile Peppers
1/4 cup dill, fresh
1/3 cup cucumber, grated and water squeezed out
juice of 1 lemon
4 pieces of naan bread
salt, to taste
pepper, to taste
Made With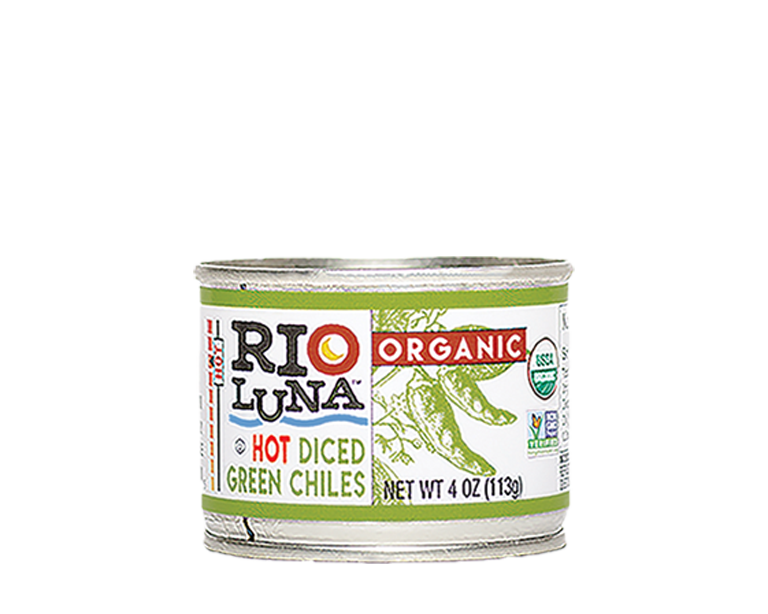 Directions
Preheat oven to 425 degrees.
In a large bowl, combine together eggplant, zucchini, olive oil, salt, pepper and Zataar seasoning and toss until evenly coated.
Put vegetables on a parchment lined sheet tray and cook in the oven for 20-25 minutes, tossing halfway through cooking time.
While vegetables are cooking, in a medium size sauté pan on high heat, add the remaining olive oil and beyond meat crumbles. Cook until crumbled have begun to slightly brown. Add salt, pepper and Moroccan seasoning. Turn off heat and set aside.
In a small mixing bowl, combine together Greek yogurt, Rio Luna Organic Hot Diced Green Chile Peppers, fresh dill, lemon juice, salt and pepper. Set aside.
Heat up Naan in the oven until warm throughout. Put 2 TBS of yogurt sauce on the bottom of the naan. Add beyond meat crumbles, eggplant, zucchini and pickled red onions inside. Fold the left over the middle and then the right over the left.
Serve and enjoy!