Ingredients
Ceviche:
1 pound rockfish, cut into ¼" cubes
½ medium red onion, diced
2 medium Roma tomatoes, cored and diced
½ (packed cup) cilantro, chopped
½ cup freshly squeezed lime juice
½ cup freshly squeezed orange juice
Kosher salt, as needed
Spicy Crema:
¼ cup sour cream
1 teaspoon chili powder
½ teaspoon cayenne
For serving:
Vegetable oil, as needed, for frying
6 (6-inch) corn tortillas
1 medium Hass avocado, pitted, peeled and sliced
1 medium radish, thinly sliced
¼ cup Rio Luna Organic Nacho Sliced Jalapeños
Handful cilantro leaves
Made With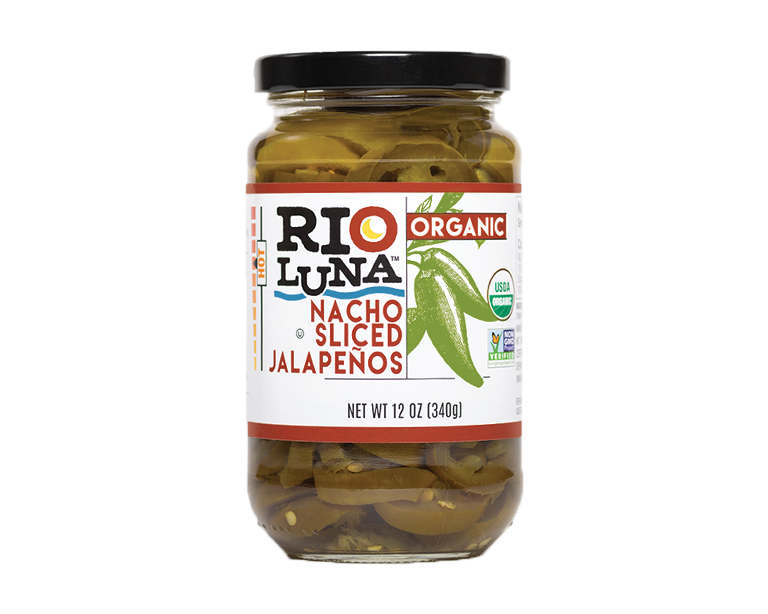 Directions
For the ceviche: Add the fish, onion, tomato, cilantro, lime juice and orange juice to a medium mixing bowl tossing to combine. Season with salt. Cover with plastic wrap and refrigerate until the fish becomes firm and opaque, about 1 hour.
For the spicy crema: In a small bowl stir together the sour cream, chili powder, cayenne and 2 tablespoon of water until the sauce has thinned and is completely combined. Cover and refrigerate until ready to use.
For serving: Fill a large cast iron pan or sauté pan with enough vegetable oil to reach ¼-inch up the pan and heat through. Test a corner of one of the corn tortillas, it should bubble when added to the hot oil. Working one at a time, add the tortilla to the hot oil and fry until crispy on both sides, about 1 minute per side. Remove to a paper towel-lined plate and repeat with the remaining tortillas.

Drain the excess liquid from the ceviche. Use a spoon to add a scoop of the ceviche to each of the tostadas and top with slices of avocado, radish, jalapeños and cilantro. Drizzle with the spicy crema and serve immediately.
Recipe Note
This recipe was developed by Cooking with Cocktail Rings. The original blog post can be read here.