Makes: 2 servings   
Prep Time: 5 mins
Cook Time: 2 hrs 10 mins
Ingredients
Quick Candied Jalapeños
1/2 cup dark brown sugar
1 cup water
1 jar Rio Luna Nacho Sliced Jalapeños
Basil Mojito
5-10 basil leaves
Candied jalapeño slices, for garnish
4 oz rum (optional)
2 oz jalapeño infused simple syrup
2 oz lime juice
2 oz soda water
Made With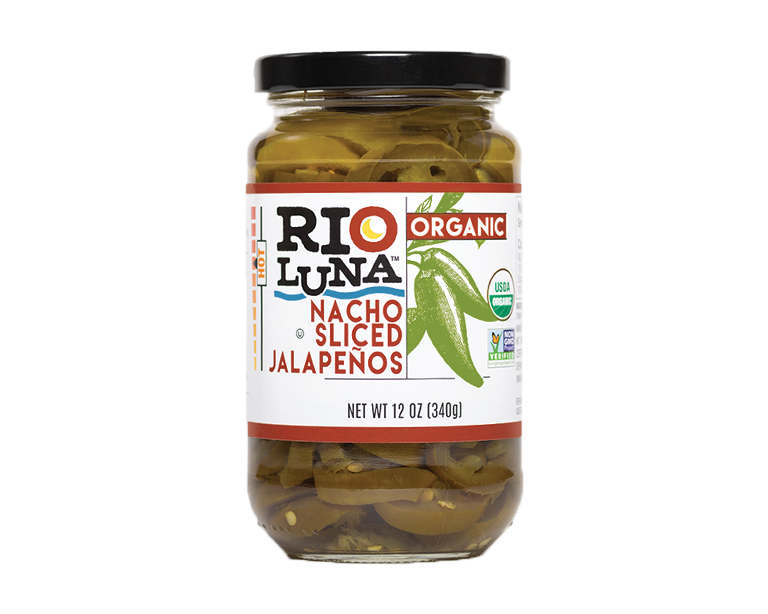 Directions
Quick Candied Jalapeños: Mix the brown sugar and water in a heavy pan over low heat.
Stir until the sugar has dissolved.
Allow to cool 30 minutes.
Preheat the oven to 250 degrees F.
Strain the jalapeño slices from their liquid. Let sit in a strainer for 15 minutes, shaking every now and then to remove any drained liquid.
Toss the jalapeños in a bowl with just enough simple syrup to coat, 3 to 4 tablespoons.
Arrange on a single layer on a baking sheet.
Bake in the oven for 2 hours, or until crisp, flipping once.
Set aside to cool.
Place back in the original jar with enough simple syrup to cover.
Store in fridge until ready to use.
Basil Mojito: In 2 glasses, muddle a few basil leaves and slices of simple syrup infused jalapeños in the bottom of a tall highball glass.
Add ice.
Add the rum, jalapeño-infused simple syrup and lime juice.
Stir to mix.
Top the glass with soda water.
Garnish with more jalapeño slices, sprigs of basil and a lime wedge.
Serve cold and enjoy.
Recipe Note
This recipe was developed and featured on Pass the Sushi. The original blog post can be read here.