Makes: 4 servings
Prep Time: 5 mins
Cook Time: 2 hrs
Ingredients
Green Chile Simple Syrup
1 can (7oz.) of Rio Luna Organic Large Chopped Green Chiles
½ cup water
½ cup sugar
1 lime, zest
Frozen Watermelon Chile Vodka Limeade
2 cups watermelon juice
1 cup vodka
½ cup green chile simple syrup
¼ cup fresh lime juice
Watermelon and lime slices for garnish
Made With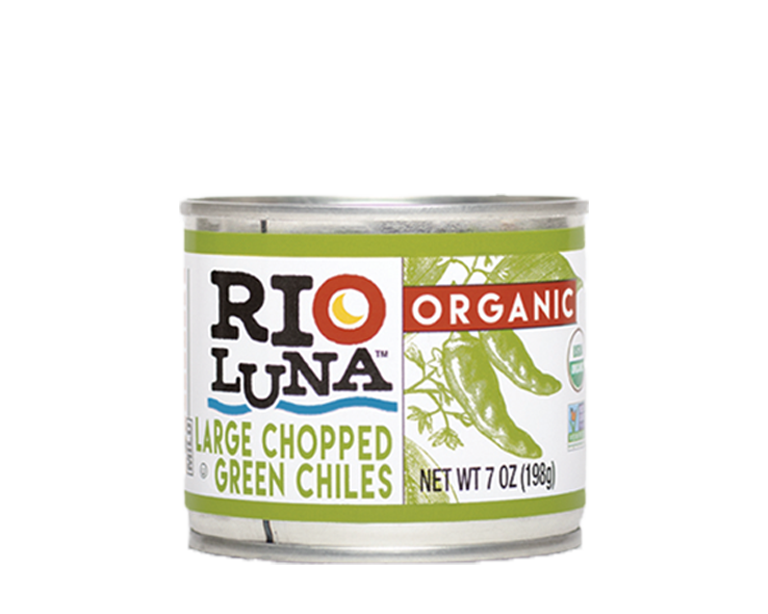 Directions
Green Chile Simple Syrup
Add everything to a saucepan and heat over medium-high heat.
Stir until sugar is dissolved and edges just start to bubble.
Remove from heat, cover allow syrup to steep until cool, about 30 minutes.
Pour mixture through a fine mesh strainer into a clean jar. Discard chiles and lime zest.
Cover and store in the refrigerator for up to one week.
Frozen Watermelon Chile Vodka Limeade
Freeze watermelon juice ahead of time in ice cube trays until solid, 2 hours or overnight.
Add frozen watermelon juice cubes, vodka, green chile simple syrup and lime juice to a blender and blend on high until a mixture is slushy.
Pour into chilled glasses, garnish with watermelon and lime slices and serve right away.
Recipe Note
This recipe was developed and featured on Fare Isle. The original blog post can be read here.
To make fresh watermelon juice, scoop out fresh watermelon chunks into a blender and puree on high until smooth. Pour juice through a strainer into a large bowl. Then transfer juice to a pitcher or large jar. Cover and store in the fridge until ready to use, up to 2 days.