Makes: 6 servings
Prep Time: 15 mins
Cook Time: 10 mins
Ingredients
For black bean enchiladas:
2 tablespoon olive oil
1 medium onion, diced
1 medium green bell pepper, diced
2 cloves garlic, minced
1 jalapeño pepper, minced
1 cup frozen corn
1 15 oz. can of black beans, drained
½ teaspoon coriander
½ teaspoon cumin
1 teaspoon dried oregano
½ teaspoon paprika
½ teaspoon kosher salt
12 corn tortillas
8 oz. shredded mozzarella cheese
Fresh cilantro and lime wedges, for garnish
For green chile sauce:
1 tablespoon olive oil
1 medium onion, diced
2 cloves garlic, minced
1 7 oz. can Rio Luna Organic Large Chopped Green Chiles
3 green onions
1 cup loosely packed cilantro
½ teaspoon cumin
½ teaspoon kosher salt
1 tablespoon apple cider vinegar
¼ cup water
Made With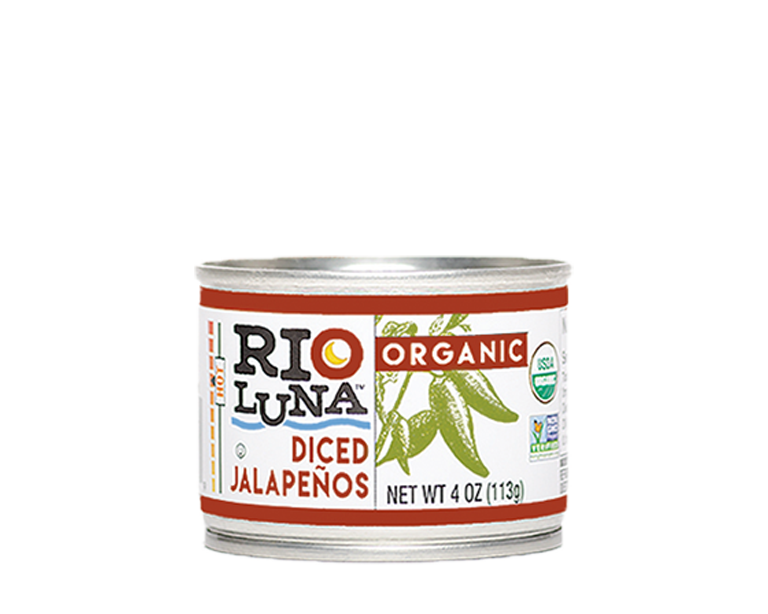 Directions
To prepare the filling heat a skillet over medium heat. Add olive oil to the hot pan followed by the diced onion, bell pepper, garlic, jalapeño pepper and frozen corn. Stir to sauté and then stir in seasonings: coriander, cumin, salt, dried oregano and paprika. Stir in black beans then lower heat and cook for about 5 minutes, stirring occasionally.
To prepare the green chile sauce first sauté the onion and garlic in the olive oil until the onion turns translucent, about 3 minutes. Add the sautéed onion and garlic along with all the ingredients to a blender and puree until smooth, about 30 seconds.
Preheat the oven to 400˚F. Ladle about ⅓ of the green chile sauce into the bottom of a 9x13 inch baking dish.
Working with 1 tortilla at a time spread a little of the sauce onto the tortilla then spoon some of the filling into the center and roll the tortilla up. Place the rolled tortillas on top of the sauce in the baking dish. Repeat with the remaining tortillas.
Pour the rest of the sauce over the top of the tortillas and then add the shredded mozzarella all over the top.
Bake until the cheese is melted and bubbling, about 20 minutes.
Serve the enchiladas hot from the oven with fresh cilantro and lime wedges.
Recipe Note
This recipe was developed and featured on Fare Ilse. The original blog post can be read here.