Makes: 4 cups
Prep Time: 10 min
Cook Time: 15 min
Ingredients
1 cup long grain rice
1 cup Rio Luna™ Organic Green Enchilada Sauce
2 cups water or stock of choice
2 tsp Kosher salt
2 tbsp canola oil
Minced cilantro for garnish
Made With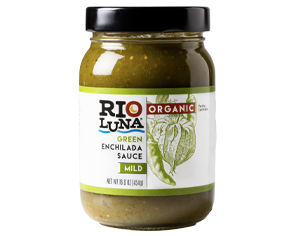 Directions
In a pot, place the oil, and turn your burner to a medium heat. Add the rice and coat with the oil until it starts to look translucent, about 2 minutes.
Next, add your enchilada sauce and water or stock. Stir with a wooden spoon and add the salt.
Cover with a lid and keep at a medium low heat for 14 minutes. The last 6 minutes lower heat all the way to low. Allow the rice to sit for 5 minutes with the heat off and covered.
Remove the lid from the pot, add your minced cilantro and fluff with a fork. Serve next to your favorite protein such as salmon, chicken, shrimp or veggies.