Ingredients
For Green Chile Jackfruit Taquitos:
1 (20 oz) can Jackfruit, cored and shredded
1 tsp extra-virgin olive oil
2 garlic cloves, grated
1 tsp cumin
1 tsp coriander
Pinch cayenne pepper
1/2 tsp sea salt
Freshly ground black pepper
1 (4 oz) can Rio Luna Diced Green Chiles, drained
12 to 14 pliable wheat + corn tortillas
3/4 cup refried beans
1/2 cup jack cheese
1/4 cup chopped scallions
Extra-virgin olive oil cooking spray
Toppings (optional):
Salsa
Guacamole
And whatever else you'd like!
Made With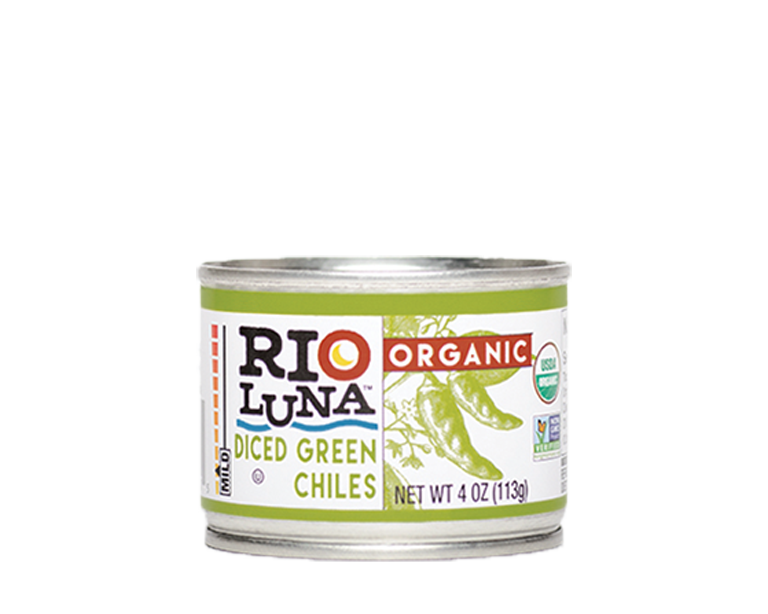 Directions
Preheat the oven to 400°F and line a baking sheet with parchment paper.
On the baking sheet, toss the shredded jackfruit with olive oil, garlic, cumin, coriander, cayenne, salt, and pepper. Add the Rio Luna Diced Green Chiles and toss again. Spread onto a thin layer on the baking sheet. Bake for 15 to 18 minutes or until the jackfruit is lightly golden brown.
Line the baking sheet with a new sheet of parchment. Warm the tortillas so that they're pliable.
Spread a strip of refried beans near the left edge of the tortilla. Layer with a little bit of the jackfruit mixture, a sprinkle of cheese and scallions. Don't overstuff. Tuck and roll into thin taquitos and carefully transfer each to the baking sheet. If they're not holding together, you can use toothpicks to hold them in place.
Spray very generously with olive oil cooking spray and bake 20 minutes or until golden brown and crispy around the edges.
Top with desired toppings.
Recipe Note
This recipe was developed and featured on Love&Lemons. The original Instagram post can be found here.