Makes: 6 servings
Prep Time: 25 mins
Cook Time: 35 mins
Ingredients
5 slices thick cut applewood smoked bacon, diced
1 tablespoon (reserved) bacon fat
1 large onion (2 cups chopped)
1 large stalk celery (1 cup chopped)
4 cloves garlic, chopped
2 teaspoons salt
4 large russet potatoes (5 cups diced, weighing 2.5 lbs.)
4 ounces Rio Luna Organic Chopped Green Chiles (reserve 2 tbsp for topping)
5 cups organic chicken stock
1 cup sour cream
Grated pepper jack cheese
Sliced scallion
Ground black pepper
Made With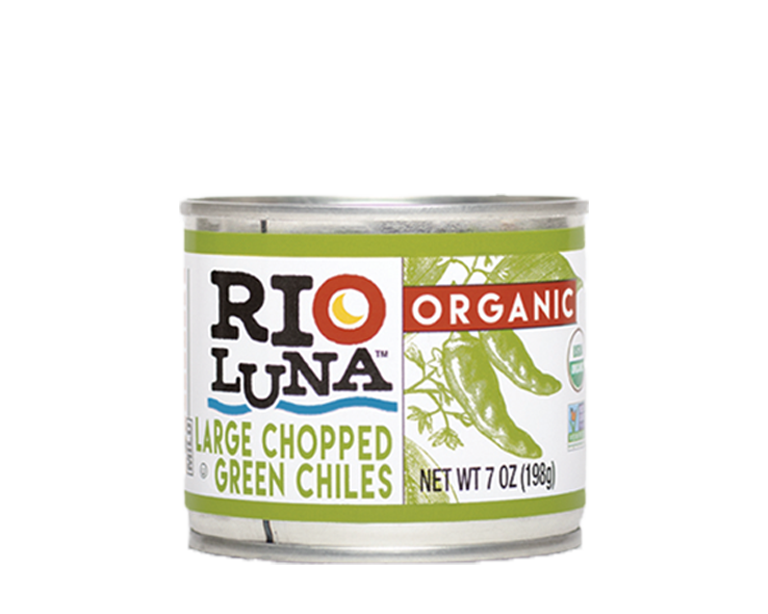 Directions
In a large soup pot over medium-high heat add diced bacon and cook until crispy. Transfer the bacon to a plate using a slotted spoon and reserve for topping the soup. (I have the plate waiting with paper towel to help absorb any extra grease). Reserve one tablespoon of bacon grease in the stock pot, pour out additional bacon grease. (option: you can substitute butter in place of bacon fat).
Add onion, celery, and garlic to soup pot and cook for 8 minutes until onions are translucent and celery is tender. Add salt, stir well to incorporate.
Add potatoes, chilis, and chicken stock to pot, reduce heat and simmer for 20 minutes or until potatoes are tender.
Ladle half of the soup into a high speed blender and puree until smooth. Pour the pureed soup back into the pot and stir well to combine.
Ladle 1 cup of liquid from the soup into a large bowl, add sour cream and whisk until creamy and no lumps remain. Pour contents into soup pot and stir well to incorporate.
Taste to adjust seasoning (add additional salt and pepper if needed).
Serve topped with reserved bacon crumbles, grated pepper jack cheese, reserved green chilis, freshly ground black pepper, and sliced scallions.
Recipe Note
This recipe was developed and featured on Abra's Kitchen. The original blog post can be read here.