Makes: 8 slices
Prep Time: 35 mins
Cook Time: 20 mins
Ingredients
1 socca flatbread
1 batch of black bean dip
1 batch of queso cheese
1 large sweet potato, peeled and spiralized on thinnest noodle setting of a spiralizer
1/2 tablespoon extra virgin olive oil
1/4 teaspoon salt
1/4 teaspoon chili powder
3 green onions, diced
Fresh cilantro, chopped
1/2 avocado, diced (or guacamole)
1/4 cup fresh grape or cherry tomatoes, sliced (or salsa)
¼ cup roasted red peppers (from a jar), diced
12 Rio Luna Organic Nacho Sliced Jalapeño Peppers, drained
Made With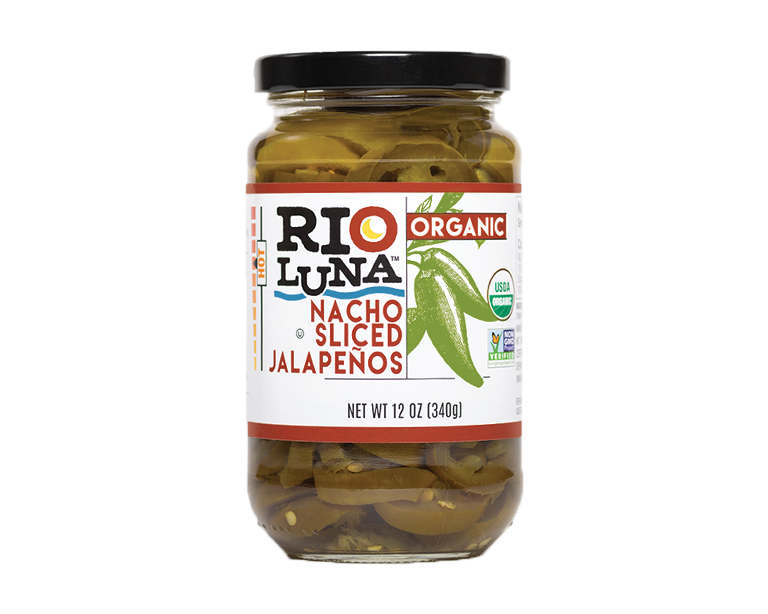 Directions
Prepare the socca flatbread, black bean dip and queso/cheese sauce.
On your stovetop in a medium sized pan, saute the sweet potato noodles with olive oil, salt and chili powder until fork tender. About 10-15 minutes.
Assemble your flatbread. Spread the warmed black bean dip on the flatbread like you would pizza sauce (about ½ inch from the edge). Top with the sweet potato noodles (distribute evenly). Top with green onions, cilantro, avocado, tomatoes, roasted red peppers and jalapeños.
Drizzle or spoon the cheese sauce over the entire flatbread, to taste.
Use a knife to carefully cut into 8 flatbread slices. Enjoy immediately.
Recipe Note
This recipe was developed and featured on Eating By Elaine. The original blog post can be read here.
For the perfect cheese drizzle you can put the cheese sauce into the corner of a plastic bag and cut a tiny hole in the corner. Squeeze the bag gently to pipe the cheese sauce through the hole in the corner of the bag.