Makes: 6 servings
Prep Time: 25 mins
Ingredients
Dressing:
½ cup sour cream (light or fat free can be used)
¾ cup good quality mayo
½ teaspoon roasted garlic powder, ground cumin
1 tablespoon EACH: honey, freshly squeezed lime juice
Salt and Pepper
Chicken Salad:
3 cups chopped rotisserie chicken
¼ cup Rio Luna Organic Diced Jalapeños, drained (increase the amount of jalapeños to desired spice levels!)
¼ cup finely chopped cilantro (measured after chopping)
⅓ cup finely diced red onion
1 cup chopped avocado (~1 large avocado)
1 cup finely diced red pepper, (~1 pepper)
For serving: croissants or bread and lettuce, pepper-jack cheese if desired (See Note 1)
Made With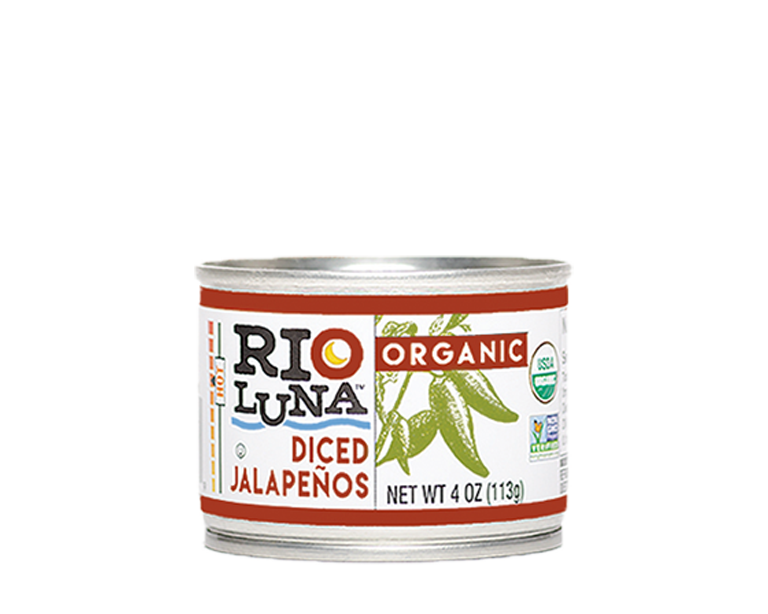 Directions
Dressing: In a medium-sized bowl, add the ½ cup sour cream, ¾ cup mayo, ½ teaspoon garlic powder, ½ teaspoon ground cumin, 1 tablespoon honey, 1 tablespoon lime juice, and salt and pepper to taste (Chelsea's Messy Apron likes to add ¼ teaspoon of each). Stir until smooth.
Chicken Salad: Cube or shred the chicken; measure 3 cups and place in a large bowl. Add the ¼ cup diced jalapeños, ¼ cup finely chopped cilantro, ⅓ cup diced red onion, 1 cup chopped avocado, and 1 cup finely diced red pepper.
Combine: Pour the dressing over the chicken and salad ingredients. Gently stir with a wooden spoon until ingredients are combined.
Assemble: Make your sandwich! Toast bread or slice open a fresh croissant. Top with lettuce and a few scoops of the jalapeño chicken salad. If desired, add on some slices of pepper-jack cheese. Enjoy!
Recipe Note
This recipe was developed by Chelsea's Messy Apron. The original post can be read here.
Chelsea's Messy Apron's favorite way to enjoy this chicken salad is on a croissant with a few pieces of lettuce. Below are a few other ways you can serve it:
Serve on regular toasted bread (we like ciabatta with this mix).
Try it on lettuce wraps! Pile this Jalapeño chicken salad on some butter lettuce leaves or Romaine lettuce, roll it up, and enjoy.
Serve this Jalapeño chicken salad inside an avocado.
Add a few spoonfuls of this chicken salad on some mixed greens or arugula and toss to combine.
Enjoy as is. This chicken salad is also great straight from the bowl or spooned onto crackers.