Makes: 8 servings
Prep Time: 15 min
Cook Time: 1 hr
Ingredients
2 jars Rio Luna™ Organic Green Enchilada Sauce
5 lbs pork shoulder, large diced
2 tbsp dehydrated minced onion
2 tbsp dehydrated minced garlic
3 cups water
2 tbsp Kosher salt
2 tbsp canola oil
Made With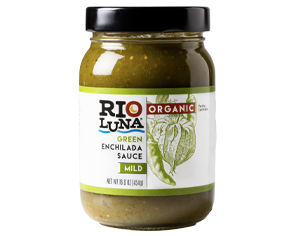 Directions
Set the crock pot or instapot to the saute setting. Add the oil and allow to heat up.
While you wait, add the diced pork and salt in a bowl. Next, add the mixture to the crockpot and allow to sear all around.
Once you've achieved a golden brown color on the pork shoulder, add the dehydrated onion and garlic, green enchilada sauce and water. Cover, set to pressure cook, and allow to cook for 1 hr.
The pork should be fork tender, and ready to be eaten. Feel free to make tacos, serve over rice, make burritos, or add to your favorite quesadillas.