Makes: 12 empanadas
Prep Time: 30 mins
Cook Time: 45 mins
Ingredients
4 ripe plantains
2 tbs extra virgin olive oil
1 medium sweet onion, diced
3 large garlic cloves, minced
2 cups cooked black beans or 1 15oz can, drained
1 7oz Rio Luna Organic Large Chopped Green Chiles
1 tsp Kosher salt, divided
All-purpose flour for forming empanadas
Neutral oil for frying
Made With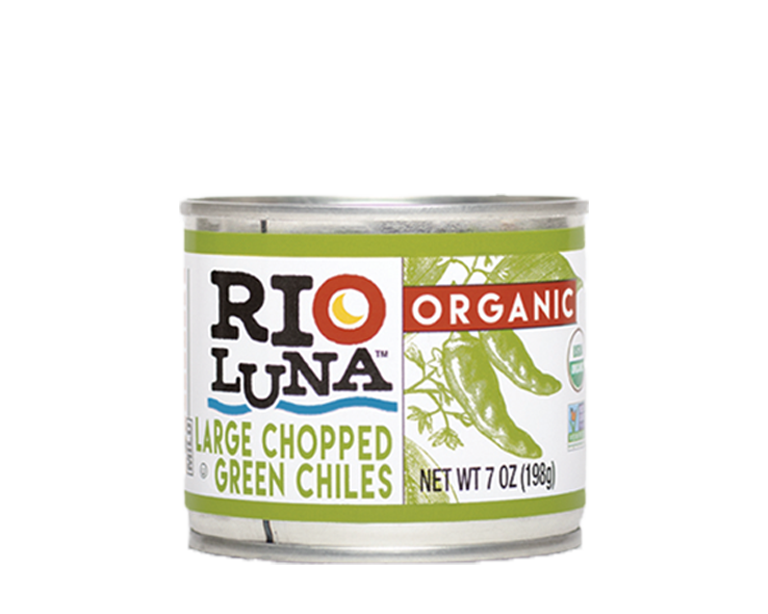 Directions
Fill a 4-quart saucepan 1/2 with water, cover and bring to a boil over high heat.
Trim ends of plantains. Make a long incision throughout the skin from end to end, them cut plantain into thirds.
Boil pieces for 20 minutes, uncovered, then drain in a colander and cool to room temperature.
Remove skins from plantains and pass them through a potato ricer into a bowl or mash with a fork.
Season plantains with 1/2 teaspoon of kosher salt.
While plantains are cooking, puree beans in a food processor until grainy with some chunks pieces.
Heat a skillet on medium-high and add olive oil then onions and sauce until softened and starting to brown. Then add minced garlic and continue to sauté, stirring occasionally, until onions and garlic are nicely browned.
Add bean puree, green chiles, 1/2 teaspoon kosher salt and cayenne if using. Cook, stirring constantly, until mixture slightly thickest a consistency of soft mashed potatoes. Taste for seasoning and add salt to taste if needed. Remove from heat and cool.
Form empanada dough into 12, roughly 1.5" diameter balls.
Heavily flour your work surface.
Working one a time, roll dough balls into roughly 4-5" diameter discs, flipping dough in flour as needed to keep it from from sticking to surface and hands. Add more flour as needed.
Add 2 tablespoons of filling to the center of disc and fold dough over then seal and crimp edges with fingertips. Place formed empanadas on a well floured board or sheet pan.
Repeat process with the remaining dough.
Pour oil into a large (8-10") heavy bottomed and deep-sided pot to fill it about 1/2". Heat oil to 350˚F using a frying or candy thermometer to check temperature.
Fry 3-4 empanadas at a time, turning occasionally, until nicely golden brown, about 3 minutes per batch.
Drain empanadas on a cooling rack set over a baking sheet.
Serve hot with Spicy Jalapeño Fire Roasted Salsa.
Recipe Note
This recipe was developed and featured on Fare Isle. The original blog post can be read here.