Makes: 24 arancini
Prep Time: 25 mins
Cook Time: 30 mins
Ingredients
6 cups (3 lbs or 1.367 kg) cooked leftover risotto
4 oz (113 g) cream cheese, at room temp
2 oz (57 g) pepper jack cheese, shredded
2 oz (57 g) mozzarella cheese, shredded
4 oz (113 g) can Rio Luna Organic Diced Jalapeños, drained
1/4 cup packed (≈0.3 oz or 8.5 g) fresh cilantro leaves, chopped
1/2 tsp kosher salt
1/4 tsp cracked black pepper
1 1/2 cups (6 oz 162 g) Italian seasoned breadcrumbs
2 eggs
24 fl. oz (710 mL) neutral oil for frying such as sunflower oil
For Cilantro Chutney:
1 bunch fresh cilantro, leaves and stems
1/4 cup (2 fl. oz or 60 mL) fresh lime juice
1/4 tsp kosher salt
Water to loosen sauce
Made With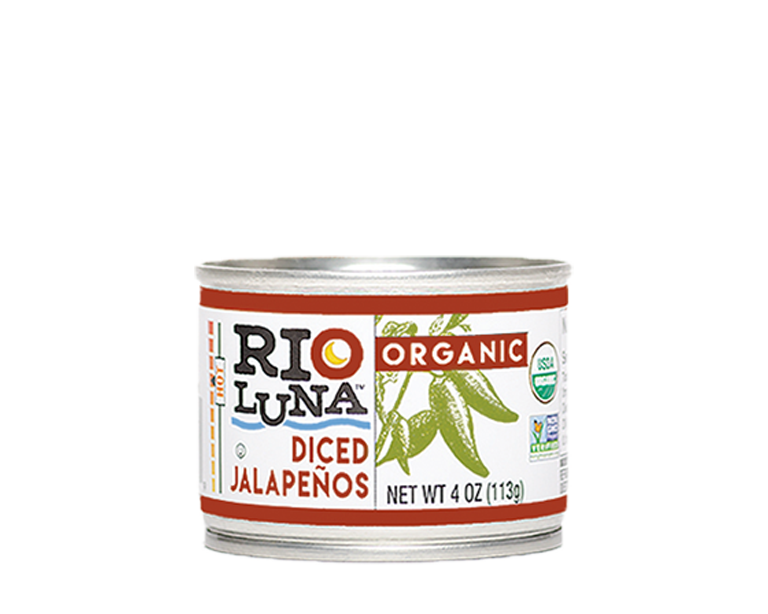 Directions
Line 1 baking sheet with parchment paper and place a cooling rack into a second baking sheet.
Prepare the arancini filling by combining cream cheese, shredded cheeses, drained Rio Luna Organic Diced Jalapeños, chopped cilantro leaves, salt and black pepper together in a bowl with a rubber spatula until everything is evenly incorporated.
Form the arancini by scooping about 1/4 cup of the cold risotto and forming it into a patty in your hands. Tip: have a bowl of water nearby and wet your hands to keep the rice from sticking to your hands.
Scoop about 1 tablespoon of the filling into the center of the rice patty then, using your hands, enclose the rice around the filling and roll it into a tight ball. Place the ball onto the parchment lined baking sheet and repeat the process until you have formed about 24 arancini.
Set up a breading station by pouring breadcrumbs into 1 bowl and cracking 2 eggs into another bowl. Beat the eggs with a fork to make an egg-wash.
Designate one hand for "dry" and the other for "wet". Use your "wet" hand to coat an arancini ball in the egg-wash then transfer it to the bowl of breadcrumbs and use your "dry" hand to cover it evenly in breadcrumbs. Then place it back onto the baking sheet. Repeat this process with the remaining arancini.
Once all of the arancini are breaded, heat the frying oil in a heavy bottomed deep-sided skillet or pan until it reaches 350˚F. Tip: use a candy/frying or instant-read thermometer to monitor the temperature of the oil.
When the oil has reached 350˚F fry the arancini in batches of 6. The oil should reach halfway up the arancini balls. Fry one side until nicely browned about 2-3 minutes. Then carefully turn each ball using long kitchen tongs and fry the other side for another 2-3 minutes. When the batch is done frying transfer them to the cooling rack set over a baking sheet to cool. Sprinkle them with kosher salt while they are still hot. The repeat the frying process with the next 3 batches of 6 arancini each.
Prepare the cilantro chutney by blending the cilantro, lime juice and salt in a blender until pureed. Add water a little bit at a time if needed to loosen the chutney while it's blending.
Serve hot and enjoy immediately.
Recipe Note
This recipe was developed and featured on Fare Isle. The original blog post can be read here.
Like any fried food, arancini are best eaten hot right soon after they are done frying. Leftover arancini will keep for up to 3 days, covered and refrigerated. Reheat in a toaster oven to serve.